Features and Benefits of PlotWorld
A unique, specialist website displaying exactly what you're after, that's PlotWorld in a nutshell. We aren't just another property website listing plots and renovations amongst thousands of houses and flats. We are the website that Britons turn to when searching for plots, renovations or conversions overseas.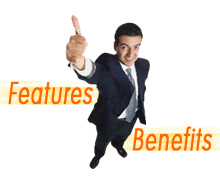 We cover Western and Eastern Europe, the USA, Australia and New Zealand. In fact we have no boundaries. Don't forget that with the new rules on pensions coming into effect in April 2006, you will be able to purchase residential property as part of your pension plan. This will allow you to benefit from all the usual pluses of property investment as well as making the most of the tax breaks available on pension savings. Now really is the prefect time to start building your own property abroad, or renovating an existing property in the sun!
At PlotWorld, we want to be different to our competitors. We don't believe in hidden extras, limited choice and restricted content.
We believe in WYSIWYG (What You See Is What You Get - Pronounced WIZZI-WIG), so there are no limitations on the content available to you when using this website. We want you to find what you're looking for without the hassle! You only need to register if you want to personalise you visits to PlotWorld by saving searches, tracking your enquiries and receiving new plot alerts by email.
We have listed a few of the main Features and Benefits of PlotWorld below so you can see why we're so different to the rest.
Access to the entire website without having to register first.
Plots, renovations and conversions the world over, from Western Europe to New Zealand and back to the UK, we list plots all over the world.
Benefit from our unique, customisable RSS Search Feeds to receive the latest plots matching your requirements direct to your desktop, PDA etc in virtual real-time!
We do not limit you to searching one country or even one or two counties, states or areas. You can search anywhere in the world as often as you like, unrestricted.
You can save searches so you don't have to keep entering your search criteria time and time again (requires free registration)
Store a list of your favourite plots (requires free registration)
Contact the vendor directly, no commission, no middle man. We simply connect potential purchaser with vendor through the adverts on the website.
Notification of new plots that match your search criteria by email (requires free registration)
Interactive discussion forum to discuss openly topics with other like minded members (coming soon).



If you have any questions or would like further information about PlotWorld, our products and services or simply want to speak to someone about becoming a member of PlotWorld, please don't hesitate to contact us.