A Guide to Cyprus - The Country

Information kindly provided by Living in the Sun - http://www.livinginthesun.com
The Country
| | |
| --- | --- |
| The "European" country in the Mediterranean. Climate, sea, mountains, culture, history, and Cyprus properties are amazing value for money The island really does offer everything at a price you can afford. Your income is taxed less, and the things you buy with it cost less! If you have ever dreamt of Living In The Sun, Cyprus really is the place where you can make it come true. | |
Geography

The name Cyprus comes from the Greek word for copper, as it was once a source of the mineral. It's the Isle of Aphrodite, where after being created in the sea she emerged as the Goddess of Love to step ashore on the southwest corner of the island.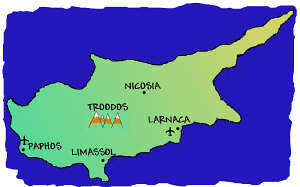 Cyprus became a full member of the EU in 2004, and it's anticipated that after that date membership will increase demand and prices for holiday and retirement homes. The past has seen a huge rise in property sales to many foreigners, especially the British, buying now to beat the forecast property boom. . Not only do you get the lifestyle, the climate, and the sheer pleasure of living there, but also perhaps to see the value of the property appreciate considerably. Land prices have risen recently as Developers are acquiring large plots and holding them awaiting permission to develop. All the signs suggest that there has never been a better time to invest and buy property in Cyprus – you too can then enjoy Living In The Sun.
The island is beautiful and picturesque, offering sandy beaches, cliffs, rocky coves, and mountains that provide skiing in winter. The mountains are forest clad volcanic hills, with deep valleys and fertile plains. The highest mountain is inevitably called Mount Olympus, at 6401 ft, and the mountains enjoy a cooler climate, and the topmost peaks offer 2-3 meters of snow often lasting until April. There are excellent planned walks and mountain bike trails through spectacular scenery.
The south coast contains the main tourist areas, and behind the beaches and hotels are the foothills with glorious views of the sea just a short drive from the amenities. The northern coast tends more towards cliffs and coves – some good diving and snorkeling – and is quieter. The water temperature is around 63 in winter and 73 in summer.
Larnaca offers good value - close to an airport, with prices less than at the other end of the island. Further west is Ayia Napa, the nightclub resort, but nearby are Protaras and Paralimni which offer some good properties. Paphos remains the absolute favourite, where most people want to be - lots of facilities, antiquities and property choices. To the north of paphos is Polis - a superb bay with mountains at either end which is a quiet retreat, with little development - well worth considering.
It is 3750 sq. miles in area, 140 miles long and 60 miles deep. It's 40m from Turkey, 59 from Syria, and 236 from Egypt, and there is a range of boat connections from the island.

Climate

The mornings are deliciously warm – straight from bed to a breakfast in the sunshine on the terrace where another beautifully warm morning awaits. You can sit in the sun watching the first sailboats leaving the harbour to catch the offshore breezes, and start planning your day. This is the life!

Cyprus has one of the healthiest climates on the planet. 340 days of sunshine every year, and warm days of 16 to30 degrees from winter to summer. Most rainfall occurs between November and March, and the wettest month is generally January, which might have 10 days of rain. Umbrellas get dusty rather than wet!

Coastal Temperatures

| | | | | | | | | | | | | |
| --- | --- | --- | --- | --- | --- | --- | --- | --- | --- | --- | --- | --- |
| Tem | J | F | M | A | M | J | J | A | S | O | N | D |
| Min(c) | 8 | 8 | 9 | 11 | 15 | 18 | 21 | 22 | 19 | 16 | 14 | 10 |
| Max(c) | 17 | 17 | 18 | 22 | 26 | 30 | 32 | 33 | 30 | 27 | 23 | 19 |
Between May and September there is normally about 300 hours sunshine per month, and often no rain in July and August. Solar heating is becoming popular as a result.

(The time is 2 hours ahead of the UK.)

Airports/Transport

There are two international airports, and plenty of flights, so getting there is easy, and there are flight bargains to be found. Over 30 airlines fly to Cyprus, so there is always plenty of capacity. The airports are at Larnaca and Paphos, and Limassol has a deep-water port. Cyprus is the centre for cruises in this part of the world, with Greece, Egypt and Israel all reachable.

British Airways is to fly to Paphos - a twice weekly service from Gatwick from October 12 - from £159 return. Helios Airways are expanding their services at very good prices - the contact for more information on fares and availability is their office in London on 08707502750.

You drive on the left, and a visitor from the UK holding a valid driving license from his country or an international one is allowed to drive. There are 3k miles of surfaced roads and 3.7k un-surfaced, and in the mountains a four-wheel drive is advisable. There is no railway system.

Taxis run from town to town on a shared basis in stretch limos carrying up to 8 people. (tel Taxi 333333)

Petrol is inexpensive and can be found over 24 hours in the card-operated stations. Other stations operate 0600-1800, and until 1500 on Saturdays. On Sundays and bank holidays only about 10% are open, on a rota basis.

Crime

Cyprus has an extremely low crime rate – a sixth of the European average - it's a very safe and law abiding place to visit and to live. The law is based on the same principles as English law, with most laws translated into English. It's also a pollution free environment, apart from the centre of the major towns. When many countries are seeing crime rates rising, particularly street crime, Cyprus is a safe haven where you can life without these fears. Theft is very uncommon, and everyone feels very secure on the island.

Language

English is taught at most schools for two years, and given the long association with Britain, there is a very warm welcome for British visitors and residents. Most road signs are bi-lingual, and there are English newspapers and radio stations. Satellite TV is, of course, available. You feel right at home here very quickly, and integration into the community is quick and easy.

Flora and Fauna

Cyprus collects wildlife of all kinds from 3 continents. There are over 1350 species of flowering plants. 90 plants are rated as only being found on the island, and to some extent evolution has done the same for animals – there are races of birds, insect and shrews that are only found there.

Butterflies are abundant, and the very exotic Swallowtail is to be found here. The plant life does contain exotic species introduced by humans – palms, cacti, mimosa, and citrus trees. Food plants include avocado, prickly pear, tomatoes, peppers, aubergine, citrus and pomegranate.

Lying astride the migration routes, Cyprus is a popular destination with birders at those times. There are still a number of birds of prey to be seen. Though scarcer than they were. There are Hoopoe, alpine swifts, bee-eaters, and spectacularly, flamingos wintering on the island.

Only 16 mammals, including 8 types of bat, exist. There are more reptiles, and there are 2 poisonous varieties. These are shy and retiring, and avoid humans if they can – so it's worth wearing stout footwear in areas where they can't be seen. Only one (the blunt nosed viper) is really a risk and this is quite rare. There are stocks of anti-venom held in most chemists in the event of a real emergency, but it's probably less of a risk than the Adder is in England.

Sea turtles breed on Cyprus – the fisheries department runs a camp to protect nests and fledglings. Dolphins can be sighted off the north coast, but not commonly.

The largest mammal is the Mouflon, a form of sheep, widely used as a symbol of the island. Otherwise it's very like England though the detail of species varies a little – e.g. the hedgehogs have long ears!

Population

Estimated at 750,000, 85% belongs to the Greek community, with 3% foreign residents.

Greek is the official language, though English is widely spoken and understood, and regularly used in commerce and government. The capital, Nicosia, lies inland whilst the next three main towns are all on the coast - Limassol, Larnaca and Paphos. Half of the population live in the six major towns. Outside of these the quaint villages can offer some stunning locations to live in a more relaxed style.

The people are warm and welcoming, and visitors and residents alike find themselves quickly making friends and joining the community. Spend time in the local Taverna and you'll be a local in no time at all.

History

The history goes all the way back to the Neolithic age. Its position has made it almost a civilisation roundabout, with all the major empires having an interest in Cyprus at some time or other. It has important archaeological and historical sites that map its long history.

8500 BC life is evidenced by some cave dwellings near Liopetri, with the bronze and copper age seeing much development and contact with the main cultures nearby. 1200 BC saw the Greeks arrive and give birth to the Hellenic tradition on the island.

The story is a long and rich one. Persia was effectively the landlord for a long period, until Alexander the Great defeated them and Cyprus became part of his empire. On his death if fell to one of his generals, who ruled Egypt. Around 30 BC the Romans integrated it.

There followed a period under Byzantine control, and dispute between Christendom and Islam saw Richard the Lionheart capture Cyprus in 1191. He sold it to the Frankish King of Jerusalem, and the franks rule lasted until 1489. It was the turn of the Venetians who saw it as an important stop on the Silk Route to China. But the Turks conquered in1571.

In 1878 Cyprus was leased to Britain, and when Turkey entered the war in 1914 on the side of Germany, Britain annexed Cyprus and turned it into a crown Colony. Turkey surrendered all claims to the island in the Lausanne Treaty that it concluded with Greece in 1923.

It became independent in 1960. Problems between Greek and Turkish Cypriots arose, and when a coup took place, Turkey invaded, and effectively annexed the northern part of the island.

No country in the world other than Turkey recognises the illegal state in the north, and this situation has remained frozen since then. There are UN peacekeepers along the green line separating the two areas. Though Cyprus makes continual efforts through political lobbying to try to get the island unified, it remains a complex situation with no easy solution.

Currency

The Cyprus pound is supported by a good banking system, with about five major banks. These all adhere to the British method of banking. Weights and measures are metric. There is a well-developed insurance industry on the island, which can handle all types of cover, including Cyprus property cover which covers earthquakes.. The Euro will become the Cypriot currency in due course.

Education

There are international schools of a high standard in Paphos and Limassol.

Medical Services

These are of a high standard, and are accessible to everyone. Paphos has a new General Hospital, well equipped and up to date with both medical and surgical facilities. Private treatment is available also. The cost in government hospitals is not high, and a consultation with one of the many competent doctors, specialists and surgeons in Cyprus will cost around CYP 7.00.

An appendectomy would cost you £55 for the operation, and a daily hospitalisation rate of £10-£18. 25% extra pays the anesthetist and another 10% the expenses. A stay in a private clinic would be nearer £35 per day. All drugs and diagnostic procedures are charges separately. Whilst these charges are relatively modest, a health insurance policy may be a good idea.